Mar
21
Sáb
2020
JINJER en Santiago 2020

@ Blondie
Mar 21 a las 8:00 pm – 11:30 pm
El próximo 21 de Marzo visitará la ciudad de Santiago nuevamente la banda ucraniana de Groove Metal JINJER. La agrupación liderada por Tatiana Shmaylyuk se presentará nuevamente en Blondie, recinto que llenaron por completo en Noviembre de 2018.
JINJER nace en el año 2009 pero fue solo con la llegada de Tatiana Shmaylyuk que la banda levantó el vuelo, lanzando su primer álbum el año 2012 bajo el nombre de "Inhale, Do Not Breathe", con el cual lograron abrir espacio en la escena europea. Ya con los lanzamientos de "Cloud Factory" (2014) y "King Of Everything" (2016), logran consolidarse como una de las nuevas agrupaciones con más proyección del último tiempo.
Ahora regresan de nuevo a Santiago en el marco de su gira latinoamericana, presentando su último trabajo discográfico "Macro", que saldrá a la venta el 25 de Octubre a través de Nuclear Blast.
Las entradas están a la venta a través del sistema
Passline
, y sin recargo en tiendas The Knife y Rockmusic (pagando en efectivo).
Valores:
Preventa 1: AGOTADA
Preventa 2 : $27.000
General: $32.000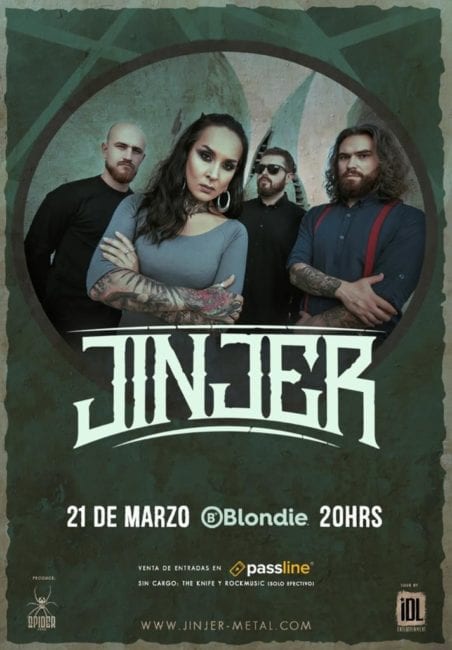 Mar
22
Dom
2020
JINJER en Buenos Aires 2020

@ Teatro Flores
Mar 22 a las 7:00 pm – 11:30 pm
JINJER, la banda ucraniana revelación del metal, vuelve a Argentina para un único show, el cual estarán filmando para su próximo material audiovisual.
La cita será el domingo 22 de marzo en el "Teatro Flores" (Av. Rivadavia 7806, C.A.B.A)
Entradas disponibles por Sistema Tuentrada.com y sus puntos de venta
| | |
| --- | --- |
|  Sector |  Precio |
|  General | $2,500.00 |
También disponibles en:
LIVERPOOL: Av. Cabildo 2136 (Gal. Recamier) Local 138/139 – 1er Piso Belgrano. NO COBRAN SERVICE CHARGE!
UM: ?Avenida Cabildo 4674, CABA. NO COBRAN SERVICE CHARGE!
ROMANTISIDE: Local 42 entrepiso, Galeria Bond Street. Av Santa Fe 1670 CABA. COBRAN SERVICE CHARGE!
METALMANIA: Lavalle 669 Loc.9 – Gal. Luxor – Cap. Fed. COBRAN SERVICE CHARGE!
La banda se formó en el 2009, pero se considera el inicio oficial con la incorporación de la increíble cantante Tatiana Shmailyuk en el 2010. Desde entonces JINJER se ha ganado el titulo como la mejor agrupación de metal de Ucrania y su desarrollo ha sido imparable, llegando a dar recitales en todo el mundo mientras compartía los escenarios de festivales y salía de gira con bandas como ARCH ENEMY, CRADLE OF FILTH y DEVILDRIVER, por mencionar algunos.
JINJER incorpora elementos de death metal progresivo, metalcore, djent y nu metal. Su vocalista se destaca por su técnica vocal, la cual va desde profundos guturales hasta canto limpio.